Rex our first Australian Shepherd. Only lightly shown but well on his way to his Australian Championship title. He is a great dog who loves hugs ,swims and plenty of attention, he has boundless amounts of energy Thank you Linda Keogh for our beautiful boy.
Whelped: 31st December, 1997

Hips: 3-1 / Eyes cleared annually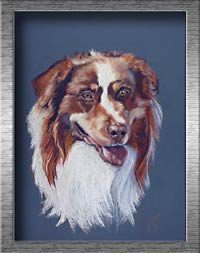 Click on photos below to view larger image
Ch Sasin Bravo Battle Flag IID

Poinsetts Heartbeat USA
Ch Brigadoon's California Dude CD HS
Carolina's Peggy Sue Ooh Ooh
Hamiltons Star Sapphire IMP USA
Ch Hamiltons Buster Brown CD
Caledonia Callaway Dorsey
Ch Beckabrook Bubaluba

Wlkabout Dynasty Bandit
Gefion Flashman IMP UK
Gefion Malted Perry IMP UK
Wlkabout Escapade Pippa
Gefion Flashman IMP UK
Wlkabout Blue Sky

Veronica and Peter Doyle Hillgrove N.S.W Australia






(Some of the photos of Rex throughout this site were taken by B.Killworth)
No part of this website may be reproduced or copied in any way without written consent from the webmaster..
ęCopyright 2002 All Rights Reserved
Contact the Webmaster